In Danish
From the Danish Magazine

SØNDAGS-B.T.

1. September 1983. DKr. 9,95
- from page 47 to page 51.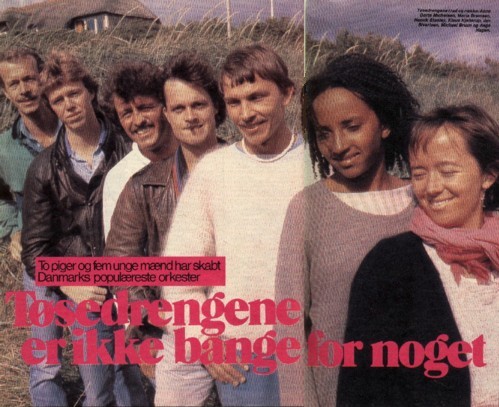 "Tøsedrengene ( the Sissies ) are not afraid of anything"
"Two girls and five young men have created Denmark's most popular orchestra"
Tøsedrengene in row and line: Anne Dorte Michelsen, Maria Bramsen, Henrik Stanley,
Klaus Kjellerup, Jan Sivertsen, Michael Bruun and Aage Hagen
For a couple of years ago 'Tøsedrengene' were thankful for a concert fee of 2000 DKr. Today they require 50,000 for and evening. Organisers are happy to pay because they know, that they can expect a chock-a-block full house. How does such a phenomenon arise in the danish music scene? Søndags-B.T.s Erik Pedersen has been on tour with the group.

By Erik Pedersen

Photo- Erik Jepsen

Our table is the only one not overturned. That is only because a couple of young ladies, have positioned themselves on it, to gain a better view. They elegantly stand between our 'Hof' and 'Tuborg' ( beers ).

Every thing is swinging. Even the choice sofa bench along the wall, where one is only able to sit on the outer most edge. The rest at our eye level is occupied by legs in all forms - legs, that belong to bodies that sway rhythmically in time to the music somewhere up there near the ceiling. We are sitting in a heaving sea of youngsters in a hall, the size of a fairly large

living room. Before the ticket lady ran screaming out into the lyme grass, she had provided 357 hands with the mark of Hotel Klitten's rubber stamp. And who ever else were out there, just barged in.

"It is a real hubbub at the beach hotel tonight" groans a waitress who is trying to do her job. She says that at the hotel, they have never experienced such an intense rush of people to see an orchestra. Seven musicians stand presses together on a raised platform in a corner of the hall. Two girls and five men, whose heads you are only just aware of, through the milling crowd, if you stand tip toe on the bench. But the rhythm and the lyrics of the songs pulsates with every one like the life giving saline solution in the blood of a patient in shock. The storm from the north sea does not have a chance against "Sig du ka'li'mig" and "Vi var engang så tæt". Here there is only an awareness of the sound waves from the throats, guitars and drums. Tøsedrengene - at the moment, the hottest band in the kingdom of the full blast, invite us at 110 decibels to "Gi'hvad du har, og vær' umiddelbar - det er det eneste våben du har" [Give what you have, and be spontaneous - it is the only weapon you

have].

For a couple of years ago they would thankfully say yes to play for an evening for 2000 DKr. Perhaps someone might come and listen to them. Today they take 50,000 DKr. for a concert, but then every proprietor knows that he can put 10,000 beers on ice and get people to drink them standing. How does such a phenomenon arise in the danish music scene? If one drills deeper in order to track the evolution, then one reaches back to a friendship that developed between to small children, who were both placed in a kindergarten in Valby.

The first record.

They were called Klaus (Kjellerup) and Henrik (Stanley), and some years later they happened by chance to meet again in Rungsted because their families had faired so well economically, that they had moved from Valby to the whisky belt. Klaus trained as a journalist and Henrik became a postman, and in their spare time they cultivated their common interest, music. They formed a "basement band", and not much happened with that. A few years passed like this, and when
| | |
| --- | --- |
| | Maria Bramsen is the newest member of the group. Her uncle is the TV-man Sten Bramsen. |
Klaus and Henrik gradually became tired of waiting for fame, they decided to record and distribute a record - even if they had to finance it themselves. In order to improve the sound of the music they needed a drummer, so they asked their friend Jan Sivertsen if he wanted to join them.

Jan was a plumber then, but played the drums in his spare time in various unknown jazz-rock groups. "But there was no-one that could be bothered to listen to us. I didn't feel that it would lead to anything at all, so I had actual just sold the drums, when Klaus and Stanley asked me if I wanted to be on the record." This serious handicap for a drummer he overcame by rushing out and borrowing a drum set, and together with an additional two friends and members of the band, sound technician Michael Bruun and at the time teacher Aage Hagen, Tøsedrengene recorded their first record with the optimistic title "Det går fremad" (It goes forward). If the truth be told, it was at that time, about the only way that it could go for the orchestra. The record awoke well-deserved enthusiasm from family and friends, but not anywhere else. The music was good, but singing voices have been heard

better. " I have to admit that I was somewhat surprised " says Jan Sivertsen. " that when a half year after the release, was sent my first royalty cheque from the record company. It turned out that I owed the company 87 DKr. But after the next settlement, half a year later, I only owed them 35 DKr."

The two girls

If Tøsedrengene had lived up to their name, they would have stopped there, and no one would have heard any more of the orchestra. But they continued to play together after the release of the record and two years later they decided to make an attempt with yet another record. They had realised that their vocal capacity was limited, and had after a vote, taken on two girls in the orchestra, the journalist student Anne Dorte Michelsen and Gitte Naur. The intention with the girls was that they should sing "shub-du-ah-tra-la-la" in the background of the recording and otherwise be satisfied with that. When the tunes were ready for the second LP, there were problems with the lyrics to one particular tune. "Stanley and I struggled confused with the lyrics," says Klaus. "We attempted something

with Denmark in red and white, like in the old days, but it wasn't any good."

Anne Dorte had earlier written quite a few lyrics for other bands, so we asked her if she wouldn't like to attempt to put words to this one. That she did, and that became "Sig du ka'li' mig".

The number was included on the groups second album "Tiden står stille" and lead to Tøsedrengenes long awaited breakthrough, not least because they had the opportunity to play it on TV's "Kanalen". For the first time Tøsedrengenes sold 25,000 copies and received a silver record. Upon that they almost immediately threw themselves into a third record project and gave the LP the original title "Nr. 3". That also sold to silver. In the meantime Gitte Naur had left the band, and in came the dark complexioned Barbados-beauty Maria Bramsen.

Success in Tivoli

Since then it has become both gold and platinum records for Tøsedrengene, and their concert in Tivoli in May, gathered up towards 30,000 spectators. Their rhythmic rock-reggae music
A concentrating Michael Bruun
prepares for the concert.

At two o'clock in the morning after the concert
there is time to relax and for some amusement.
and direct lyrics has an appeal to the masses, and the orchestra is now placed somewhere near the top of the best performers here at home. Particularly the last years success could give the impression that Tøsedrengene in their spare time are standing with a large shovel and shovelling in the money.

There are many that think we have become stinking rich, says Klaus Kjellerup, but actually it is only now that we are starting to earn from performing. And it is from the records we are earning, because with the concerts there are such large expenses, that we are happy just to break even.

The thing with the money from the concerts and records can be a bit difficult to relate to sensibly, they think. The most tempting is just to use it freely, but, says Michael Bruun, "it is dangerous to become famous and suddenly earn money, because immediately one is inclined to set ones private consumption up, and that has caused many to go down with the flag. We get the whole sum paid out without tax being deducted as we are B-taxpayers. The bill comes later, and if there is no money, then the bells ring".

That is why we need to be economical and sensible, says Anne Dorte. We all really need to think about, whether we can afford that pair of jeans now, which we would like to have, or do we have to wait until next month. Many probably think that we don't need to worry about such things. But we all owe the tax department money, continuously. I don't have anything against paying tax, but I feel that the system could be better.

This is how much they earn

Jan Sivertsen says, that the only way one can administer it, is to simply put half of every honorarium in the bank straight away, and just forget everything about the money. But however it is only now, within the latest year and a half, that he has gained a little something economically from performing with the orchestra. And he thinks that more needs to happen, before he can live up to what many thinkhe is - a wealthy rock star.

Last year the members earned from 80,000 to 120,000 DKr. all depending on how much they had contributed with lyrics and tunes. This year

they expect to reach a minimum of 150,000 DKr., and in comparison says Michael Bruun, who during the day is a record producer with "Werner Studie", he can earn nearly as much by producing a record as he has as a yearly income, being a musician with Tøsedrengene.

Of course it is a good supplement to our normal income, but it shouldn't become more than that, says Anne Dorte. We enjoy performing together, but we try consciously to hold on to the idea that our lives are much more than Tøsedrengene. It should not be interpreted as if we are not happy with our success, or do not value it, because we do that decidedly. But in a few years when we are no longer famous, we have to have other things to occupy us. I think, one is very quickly forgotten when one stops in this occupation. That is why we all work at other things as well. It is dangerous, if we only see ourselves as members of Tøsedrengene. Then it is easy to go and loose ones identity.

Still, Tøsedrengene haven't really worked out how they should handle this strange phenomenon that is called fame.
And there is also time for a
lively walk in the lyme grass

The hall is boiling when "Sig du ka' li' mig" roars
from the speakers at 110 decibels
The orchestra's colossal popularity has meant an upheaval for them all, and they can still be come bashful when people in the street approaches them and praise their music. "Or, when we came out into the corridor after a performance" says Jan Sivertsen, and two girls were looking at us and said "My, they are small". - yes, it is such things, that gives "an inner glow".

When Anne Dorte is well satisfied with her only having a supplementary income with Tøsedrengene - even if the supplement for the time being is greater than her student grant - it fits well together with her involvement as a song writer. We all have the orchestra as an additional employment, so we are not so tied up by it that we need to earn a lot of money. We do not need to prostitute ourselves and release things that we perhaps are not so pleased with, just to make a sale. For me it is important that people

get an experience, when they hear the lyrics. I write about the things that make an impression on me in daily life. With Tøsedrengene, I have discovered how strong a form of expression music is. But it is important for us to maintain a relaxed amateurism and maintain a style that is down to earth. For, by just simply being some people, that play music, I think it is easier for people to identify themselves with us. Of course I am pleased when people praise my lyrics, but I have also produced some that have been terrible. The boys have just guided me, so we have managed to get the lyrics and the music to fit together and that combined has given the band a lift.

At the moment at the Hotel Klitten in Søndervig, it is more like the roof that Tøsedrengene are giving a lift. To attempt to throw oneself out to dance would be pure suicide, but a nurse, who

friendly souls are so charitable to throw me against, explains, that she and a colleague have travelled over here from København to experience their idols. Otherwise it would appear that the combined youth from Ringkøbing and the summer cottages areas of Søndervig - Hvide Sande, find themselves in this location at this moment. "Vi var engang så tæt" ( We were once so close ) roars out of the speakers from Maria and Anne Dorte, but as it happens we all are quit close to each other, just now.

My photographer is being sucked away into the maelstrom, as he attempt to move forward to work by the stage. Oppositely, I am being presses up against the nurse, and what other excuse presents itself at a moment like this, than: "Sig du ka' li' mig ... " ( Say that you like me )
Henrik Stanley doesn't think that there
is anything 'sissy' about knitting.

Klaus Kjellerup became tired of waiting for fame
and took the chance with a LP at his own expense.
That is how Tøsedrengene started.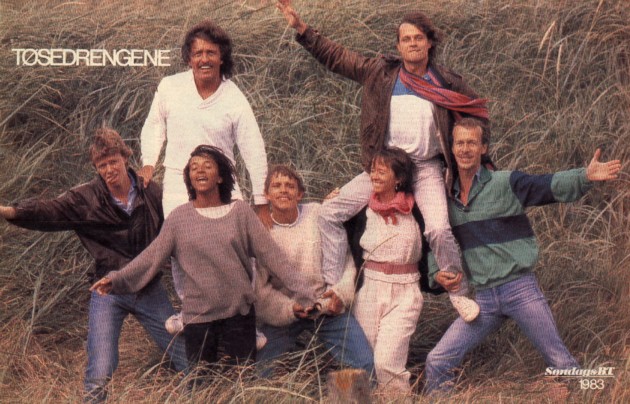 "THE SISSIES"
Søndags B.T. 1983